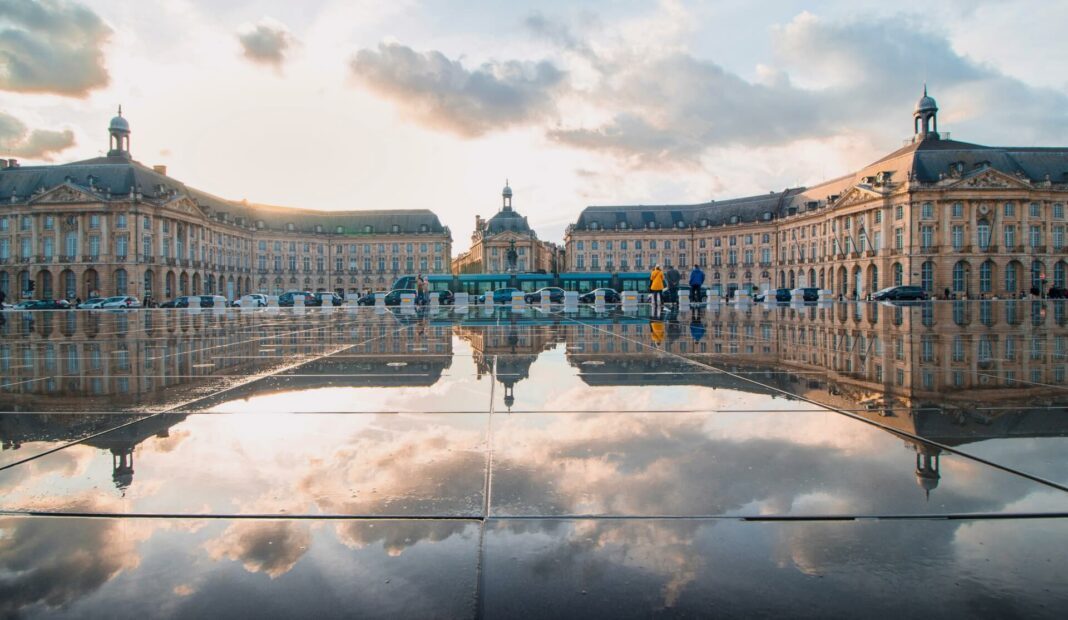 Victoria Garden
Bordeaux Center
From studios to connecting studios perfect for families
Best rate guaranteed on our website
Drop your suitcases, let your worries escape and set out to discover the sleeping beauty. First, get lost in the streets of the city center, a UNESCO World Heritage Site. Then, find your way back to our aparthotel to enjoy the last rays of the sun and recharge your batteries.
This district is one of the liveliest in Bordeaux, animated day and night, where the youth of the city throng. In other words, whether you are a traveler or a tourist, you are sure to find something to satisfy you.
Our propoerty
Completely renovated in 2017, our 3-star residence offers 100 apartments for a guaranteed change of scene: ideal for visiting Bordeaux.
Our property is accessible and equipped for people with reduced mobility, air-conditioned, furnished, with a kitchenette equipped. Besides, there may be also a bathroom with shower or bathtub to drown your worries in the bubbles. Suitable for the whole family, our establishment also welcomes your pets. At Victoria Garden, everything is comfort, modernity and change of scenery.
Also, leave your car in our secure parking lot and return to it when you leave. Victoria Garden is located near the Place de la Victoire, in the city center. It allows you to do everything by public transport: bus stop at 30 m, streetcar stop at 500 m. The SNCF Saint-Jean train station, a 15-minute walk away, will be the starting point for your most distant excursions. And for the rest, bikes, scooters and walking can join the adventure.
Ideal for family trips, with your colleagues or for a solo adventure. With Victoria Garden, visiting Bordeaux has never been easier. Our apart hotels have everything you need for a guaranteed change of scenery. With an immersion in Bordeaux culture and, above all, a lifetime of memories.
Your comments
Jean François M. -
Bordeaux
17/09/2023
Maria Eugenia G. -
Bordeaux
03/09/2023
Emmanuel Et Claudie L. -
Bordeaux
18/08/2023
Jean Sébastien G. -
Bordeaux
28/07/2023
Monika Barbara F. -
Bordeaux
18/07/2023
Jean-Pierre W. -
Bordeaux
27/06/2023
Marie Laure M. -
Bordeaux
26/06/2023
Juan Miguel G. -
Bordeaux
26/06/2023
Guillermo Francisco D. -
Bordeaux
09/06/2023

Animals
6€ per night

Baby equipment rental
By booking with us, you can take benefit of a promotional code at Gambin: the baby equipment rental service that simplifies your life
Breakfast
10€ per adult and 5€ per child
Cleaning on demand
25€ for stays of 7 nights or more


Meeting room
Ideal for your meetings of up to 20 people


Parking
12€ per night
Welcome basket
25€ for 2 people (includes 1 bottle of local wine, 1 regional pâté, 1 local snack)
Details of services and equipments on the room pages.
Useful information
To visit us it's simple:
– From Bordeaux Mérignac airport:
Tram A towards "Floirac Dravemont" or "La Gardette Bassens Carbon Blanc" to the "Hôtel de Ville" stop, then Tram B towards "France Alouette" or "Pessac Centre" to the "Saint-Nicolas" stop. Another 500 metres and you're there!
– From the Saint-Jean train station :
Board a line 20 bus heading for "Cimetière Intercommunal (Mérignac)" and get off 6 stops further on at the "Kergomard" stop. Another 4-minute walk and you're there!
– By car :
Take the direction of the city center and the Place de "la Victoire". The establishment is 450 meters from the "Porte d'Aquitaine".
Latitude : 44.82578494028194
Longitude : -0.57271533439331
Do not hesitate to ring the intercom for the opening of the gate (cost of €13 per night for secure parking).
– By bike or on foot?
To find us, here is our address:
127 cours de la Somme
33800 Bordeaux
Tel : 05.56.33.48.48
To get around during your stay, think sustainable mobility:
Bordeaux and its surrounding area offer many options for getting around responsibly.
From our establishment, you can get there on foot:
– V3 "Cours de la Somme" station, where you can borrow one of the city's many self-service bicycles available 24/7. (More information here)
– At bus stops on lines 1, 5, 11, 15, 20 and TBNight, and at Tram B stops for "Saint-Nicolas" and "Victoire" (more information here).
If you want to travel more responsibly, we also advise you to use the Modalis multimodal platform to plan all your transort needs in New Aquitaine!
Reception opening hours
Monday to Friday: from 8:00 am to 12:30 pm and from 1:30 pm to 10:00 pm
Saturday, Sunday and holidays: from 8:00 am to 12:30 pm and from 1:30 pm to 9:00 pm
Check in time
Our team is looking forward to welcoming you!
Monday to Friday: from 3:00 pm
Saturday, Sunday and holidays: from 4:00 pm
Bordeaux and its surroundings
You have questions? Special needs?
An advisor is listening to you
Write us
Your message concerns
Recruitment
Job offers & unsolicited applications